Cookie preferences
This website uses cookies, which are necessary for the technical operation of the website and are always set. Other cookies, which increase the comfort when using this website, are used for direct advertising or to facilitate interaction with other websites and social networks, are only set with your consent.
This product is currently not available.
LoungeBox Expedition | 12V100aH | BT5 + HEATING -30° | LiFePo Outdoor Battery Camping Caravan
£895.00 *
£1,125.63 *
(

20.49%

Saved)
Prices incl. VAT (possibly country-dependent) plus shipping costs
Order number:

PWR-4S-EXP-100AH-HT-BT
LOUNGEBOX I EXPEDITION | LITHIUM LIFEPO4 | HI-C OUTDOOR POWER...
more
Product information "LoungeBox Expedition | 12V100aH | BT5 + HEATING -30° | LiFePo Outdoor Battery Camping Caravan"
LOUNGEBOX I EXPEDITION | LITHIUM LIFEPO4 | HI-C OUTDOOR POWER FÜR MAXIMALE ANSPRÜCHE!
New in stock – LoungeBox EXPEDITION 12.8V LiFePO4 Hi-C Batteries for the highest demands! – Complete New modular design for easy maintenance and optimized waterproof housing.
With its IP64 Rating and robust construction, this battery can withstand anything, making it ideal for camping, off-roading, or any other outdoor activity.
The Carplounge SMART BMS ensures that your battery stays protected from overcharging or deep discharging, while the built-in battery status display keeps you informed of how much power you have left. Whether you're using it to power your electronic devices or your e-motor, the LoungeBox EXPEDITION 12.8V LiFePO4 Hi-C is up to the task.
New available optional features
✓ Polar -30°C , use the battery in extreme cold temperatures up to -30 degrees
✓ BLUETOOTH 5.0 & MONITOR APP, monitor the battery status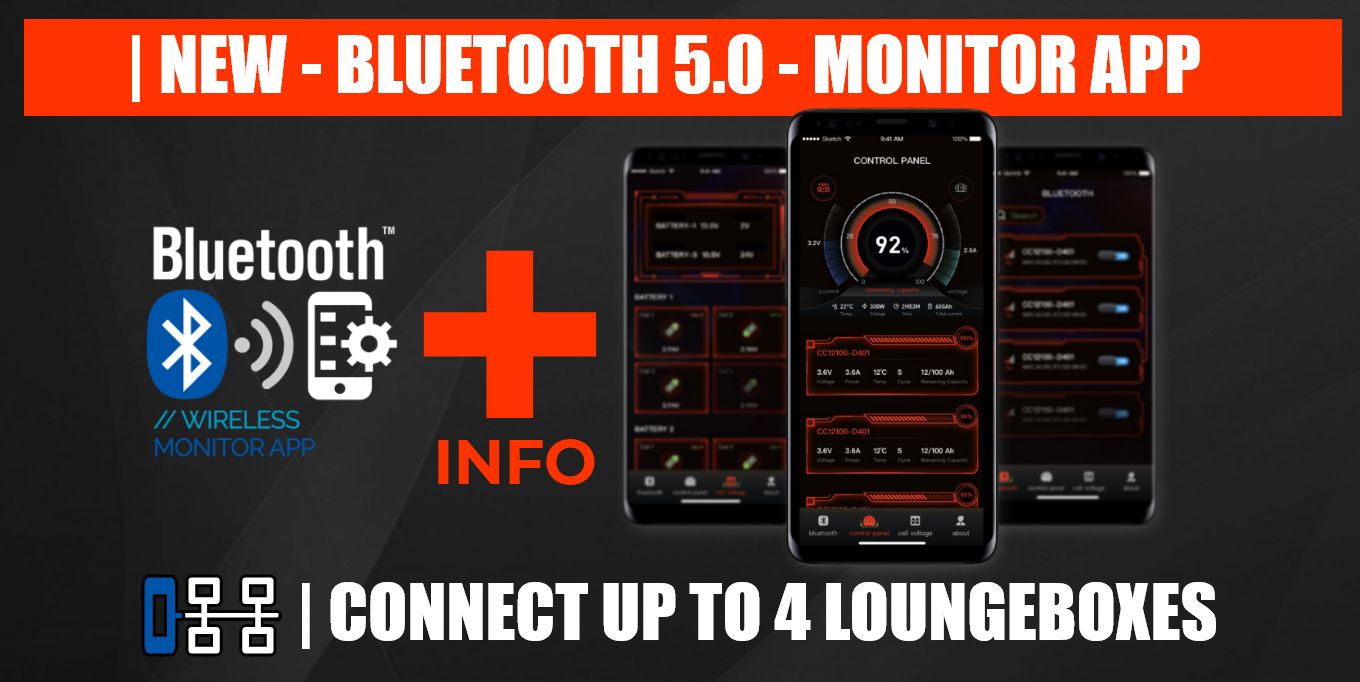 NEW - BLUETOOTH 5.0 & MONITOR APP
The Bluetooth version of the Loungebox comes with an New Bluetooth module that supports Bluetooth 5.0 - that offers faster speeds and more range!
Easily connect your smartphone to the battery with our newly designed Monitor 5.0 app to monitor the battery temperature, health, charging status, voltage etc. in real-time!
Keeping track of your battery will result in a longer lifespan and avoids over charge / discharge.
Polar -30°C
While other LiFePO4 batteries on the market lose performance at temperatures below 5 degrees and become unusable or even damaged in cold weather, the POLAR function ensures safe operation and maximum service life even in extreme cold conditions.
Exclusively for our EXPEDITION LoungeBoxes, we have installed a smart self-heating function in the POLAR version. Internal heating elements keep the battery warm even in winter conditions and ensures safe operation and full power even under the most extreme conditions in a temperature range of up to -30°C.
The battery management system (BMS) monitors the temperature of the cells and fully automatically controls the internal heating elements to ensure that it never drops below the freezing point.
This makes the EXPEDITION version with POLAR function the perfect choice for all year-round outdoor activities and for caravans, motor homes and campers.
UPGRADE & MAINTENANCE-FRIENDLY DESIGN
✓ Easy to open through screws
✓ Easy replacement of components
✓ Stronger case construction without glueing
Most LifePO4 batteries on the market have their cases glued together for stability, making it difficult to replace or upgrade the cells or BMS at a later date.
Thanks to the new and more stable construction of the EXPEDITION LoungeBoxes, the screw connection offers easy access for maintenance and later upgrades. The individual modules such as the cells, the battery management system (BMS) and the Bluetooth module can be easily replaced at any time without the use of special tools.

| CARPLOUNGE LOUNGEBOX - 10000+ IN USE AROUND THE WORLD!
// Camping, Fishing or E-Motor?
Outdoor use, camping or fishing in the middle of nowhere? Our LoungeBoxes are always a reliable source of power when you need it!
The LoungeBox has already proven its reliability internationally, even during long sessions over several days/weeks.
No matter whether it' s permanently installed in a caravan or used as a power supply for entire expeditions - with our wide range of lithium batteries , we can offer you a reliable power solution for every situation!
// Boat & Outdoor optimized.
Our LoungeBoxes are frequently used to supply electric motors for inflatable boats. However, it can happen that water enters the boat, e.g. due to heavy rain, leaks in the boat or waves.
Most power boxes have the connections at a very low level - which automatically leads to problems. We have installed all connections in the top area for maximum safety, even if the boat is filled with several centimetres of water!
// Industry quality you can trust!
Our LoungeBoxes are not only be used by anglers and campers: Nowadays, our LoungeBoxes are also used by the fire brigade, the police, the THW and expeditions to supply power to entire crews for longer periods of time.
Thanks to the multiple connections, several devices such as an e-motor, 220V converter, echo sounder, tablet, etc. can be used or charged at the same time without interfering with each other, which is the case with other suppliers.
// PWR your universal Power source!
Our connectors, which have proven themselves over many years, make the LoungeBox a multitool for all situations: whether for charging baitboot batteries, as a power source for lighting systems or generally for charging and operating all kinds of electronic devices.
With the HighPower output, electric motors, voltage converters etc. can also be operated permanently with up to 3000W(!). In the short term, up to 4000W is easily available for voltage peaks!
// Certified safety through Smart BMS with Watchdog
Our proven Carplounge digital Smart BMS (Battery Management System) is now in use over 10,000 times worldwide and regularly receives awards from specialist media. Our LiIon and LiFePo cells are actively protected against overcharging, deep discharge, reverse polarity and overheating.
We are the only manufacturer to guarantee at least 3000 charging cycles without significant loss of capacity for our entire 4S battery range!
| For the highest security, guaranteed power, and maximum battery life, we only use "Class A" brand cells and avoid cheap Chinese cells!
| All Carplounge LOUNGEBOX and the SMART PWR BAITBOAT BATTERIES complies with all essential Requirements to electronic compability - attested Compliance [CE] -download CE as PDF
| Under the UBA-Reg.No.: 21004725 (BattG) and WEEE-Reg.No.: DE 37740149 (EAR) the company Carplounge is certified as a manufacturer and distributor.
// BEST PRICE / PERFORMANCE RATIO:
Beside our outdoor and industrial customers, the Loungebox is an inherent part of the equipment for police, fire, THW and DLRG departments.
Because of the huge amount of battery packs, we made for our baitboats and LoungBoxes we can offer our LoungeBoxes for an unbeatable price-performance ratio - of course with our original Carplounge quality!
Compare the LoungeBox with other manufacturers - divide the capacity (Wh) by the price incl. the charger!
Properties "LoungeBox Expedition | 12V100aH | BT5 + HEATING -30° | LiFePo Outdoor Battery Camping Caravan"
| | |
| --- | --- |
| Capacity (Ah): | 100 |
| Watthour (Wh): | 1400 |
| Constant PWR (A): | 100 |
| Peak (W): | 2,500 |
| Max Chg (A): | 50 |
| Peak (A): | 200 |
| KG: | 12.50 |
| Lenght (cm): | 29 |
| Width (cm): | 20 |
| Height (cm): | 23 |
| Bluetooth + APP: | with BT5 & Multiconnect APP |
| Heating System: | Polar - incl. SmartHeat -30° |
Read, write and discuss reviews...
more
Customer evaluation for "LoungeBox Expedition | 12V100aH | BT5 + HEATING -30° | LiFePo Outdoor Battery Camping Caravan"
Write an evaluation
Evaluations will be activated after verification.
Fragen und Antworten
mehr